I have always loved making things: sewing, baking, making soap, and making cakes. Over the years I have made cakes for family parties, church events, wedding gifts, birthday presents… you name it! In the last several years, I found myself watching cake shows on TV, and then I started visiting cake websites. I was amazed by some of the cakes I saw, and decided I just HAD to learn how to do some of the techniques….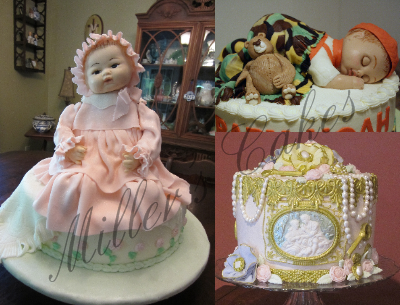 One day there was a baby shower planned for a friend from church. I called my friend who was planning the shower and asked if I could make the cake. She was very happy to have it made for free. Me? I wanted to see if I could make a 3-D baby that WAS a cake. It was a huge success, and then I was REALLY hooked on cake.
So, Miller's Cakes was "BORN"…
Miller's Cakes is now based in Clarks Summit, PA, in a lovely commercial kitchen built in-home, and is a registered food establishment through the Commonwealth of Pennsylvania Department of Agriculture Bureau of Food Safety and Laboratory Services. For those of you looking for Miller's Cakes from Harveys Lake, this is it! We moved, built a new house, and a new commercial kitchen. Please visit my FACEBOOK PAGE. 
Life is SWEET!